Events
Senior Band
Saturday, 24 November 2018 at 7:30PM - Gala Concert
Venue - St Davids Cathedral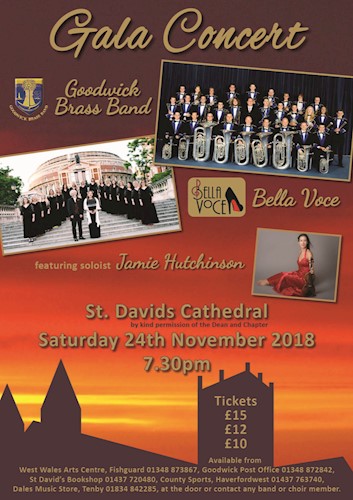 Goodwick Brass Band will perform at St Davids Cathedral together with Bella Voce, a choir consisting of 16 women who are nearly all music teachers. They sang alongside singer and Classic FM presenter Aled Jones in a recent concert at the Brangwyn Hall, Swansea.
Bella Voce – whose name means 'beautiful voice' – prides itself on its eclectic repertoire and signature collection of brightly-coloured shoes!
We are also delighted to feature the talented violin soloist Jamie Hutchinson. Jamie is an experienced and versatile performer who frequently performs with orchestras such as the BBC Concert Orchestra and the City of Birmingham Symphony Orchestra. She has recorded film scores and commercial pop records for EMI at Abbey Road and she was the violinist on the West End Musical 'Flashdance'.
Ticket prices £15, £12 & £10
Available from:
West Wales Arts Centre, Fishguard - Tel: 01348 873867
Goodwick Post Office - Tel: 01348 872842
St David's Bookshop - Tel: 01437 720480
County Sports, Haverfordwest - Tel: 01437 763740
Dales Music Store, Tenby - Tel: 01834 842285
At the door or contact any band or choir member.
Saturday, 01 December 2018 at 7:00PM - Grand Gala Charity Concert
Venue - Folly Farm
On Saturday 1st December, Goodwick Brass will take part alongside the West Wales Show Choir and Clive Edwards in a Grand Gala Charity Concert organised by the HOPE Multiple Sclerosis Therapy Centre, a registered charity, located in Neyland.
Proudly supported by Folly Farm, the concert will commence at 7:00pm on Saturday 1st December 2018 at The Follies Theatre Folly Farm, Begelly, Kilgetty Pembrokeshire SA68 0XA
Admission: £15:00.
Tickets available from:
VC Gallery, High Street, Haverfordwest
Just Nice, Quay Street, Haverfordwest
Post Office, Gordon Street, Pembroke Dock
Dales Music Store, High Street, Tenby
The Begelly Arms, New Road, Kilgetty
For further details contact: H.O.P.E. MS Therapy Centre 01646 600384
Community Band
Sunday, 25 November 2018 at 4:00PM - St Mary's Church
Venue - St Mary's Church, Newport
The Community Band will provide entertainment at St Mary's Church, Newport. 
Sunday, 02 December 2018 at 4:00PM - Solva Christmas Tree Service
Venue - Solva, Pembrokeshire
The Community Band will be performing carols at the Solva Christmas tree service.